Getting your dog to slow down at dinner time can be a real problem for both you and your dog. It can cause them to experience bloating, vomiting and even choking, not to mention the "silent but deadlys" that can come with it!
Slow Feedz was specifically designed to put an end to this, by allowing you to spread their meals out between the 4 unique section it forces them to work for their meals.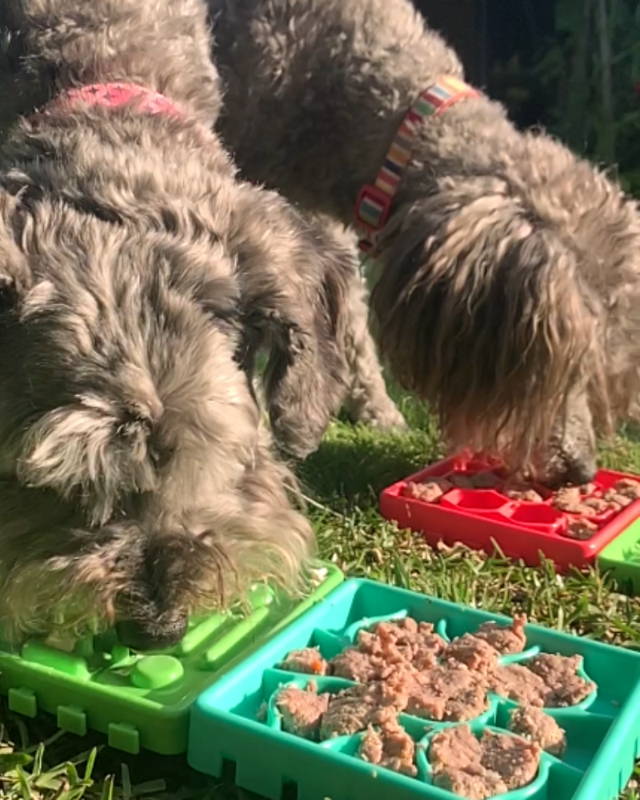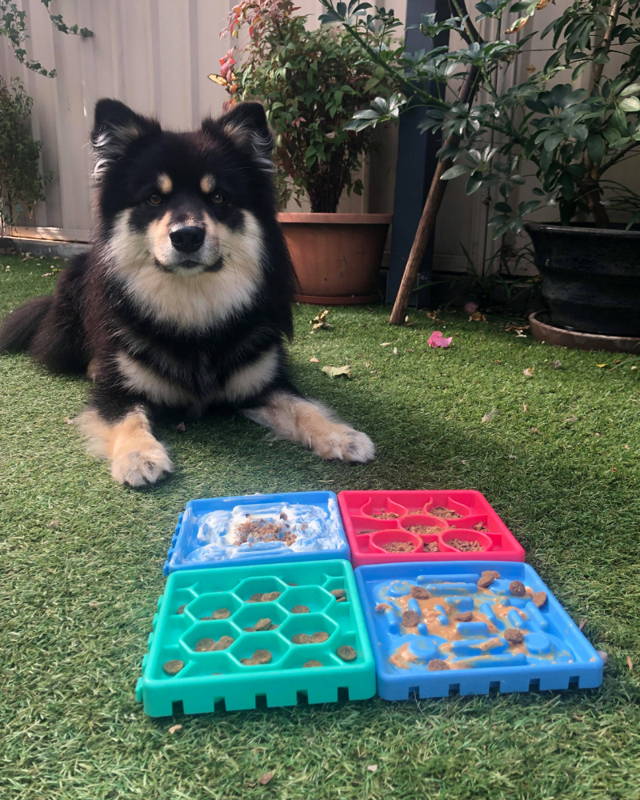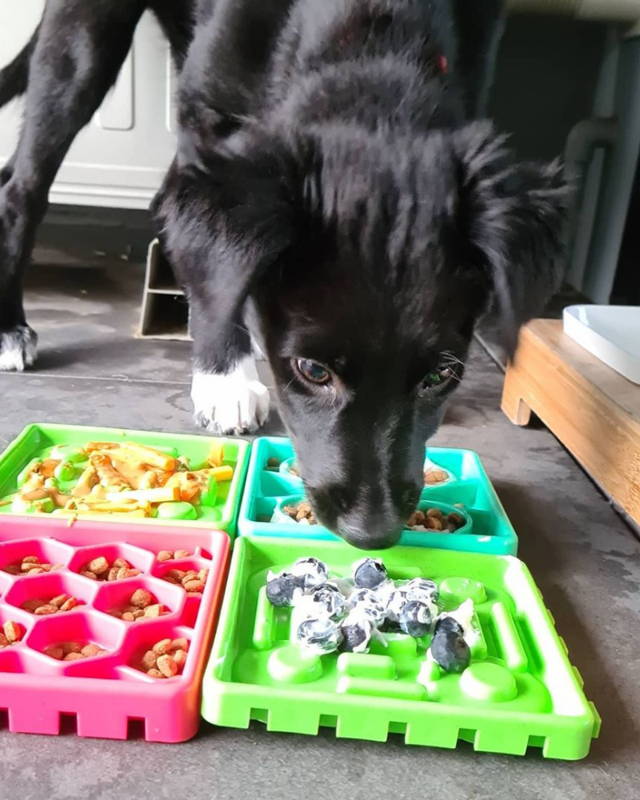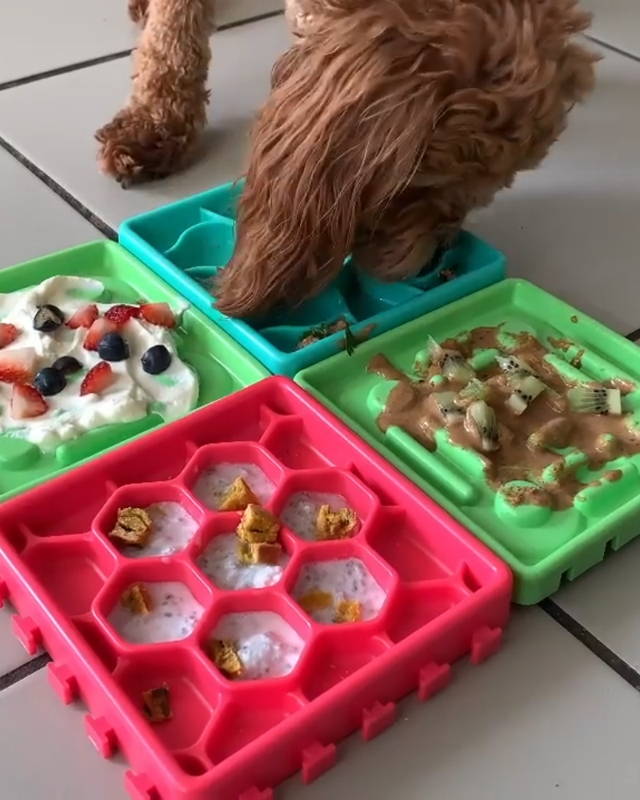 The other 2 licking mat sections of Slow Feedz were designed to allow your dog to lick for their food. Licking generates saliva that contains enzymes that will aid in digestion and helps protect their teeth and gums. It also allows you to serve a wide variety of treats; peanut butter, yoghurt, purees and any organic and healthy pet approved treats.
The 2 slow feeding sections of Slow Feedz were designed to make your dog work for their food. Like most slow feeding bowls, our mat has maze like grooves that your dog will need to manoeuvre their way around to get to their meal. It's not the trickiest puzzle in the world, but it's enough to stop your dog from scooping up their whole meal in one big gulp. They also include rubber grips to stop them from pushing it around the house!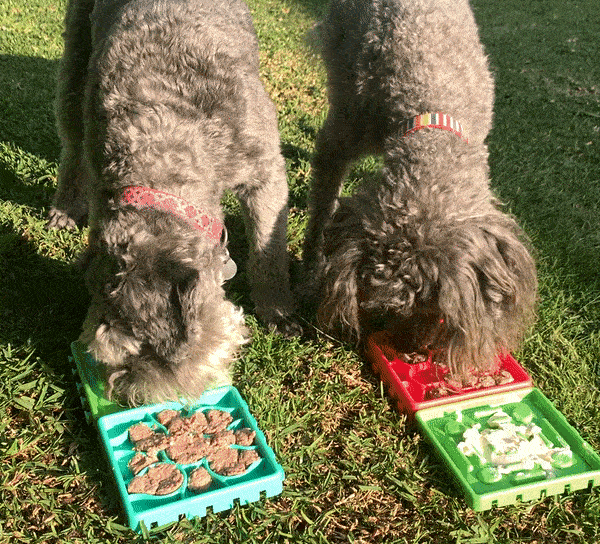 Grooming your dog isn't always the easiest task, but thanks to the built in suction caps on the licking mat, you'll have the perfect distraction. By suctioning your Slow Feedz onto the a wall, you can both distract and reward your dog during grooming practices like ear cleaning, nail cutting, brushing, washing, blow-drying and coat trimming.
This helpful tool plays an imPAWtant role in calming even the most nervous or anxious dogs and will teach them to associate grooming with positive experiences.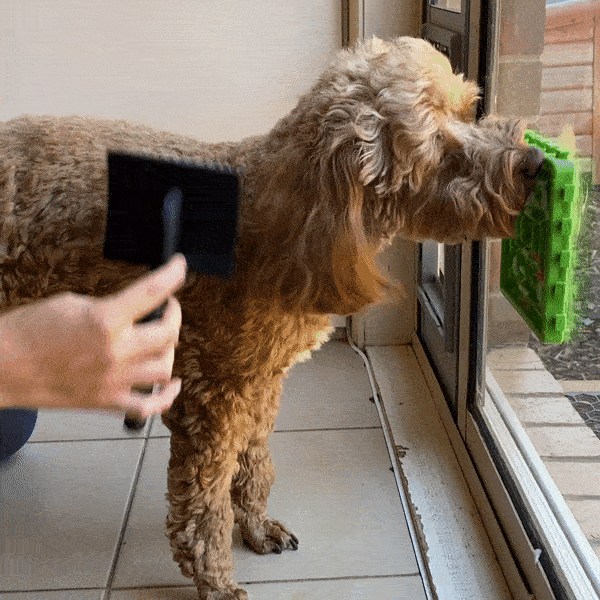 Simply fill each section with either their kibble, treats or pastes and let them feast! It's also super simple to clean, just rinse them off or give them a light scrub after use.
Some of our favourite combinations include:

Natural yoghurt and frozen blueberries
Natural yoghurt drizzled with fish oil and topped with dehydrated lamb lung
Tuna with a dash of cream cheese spread
Minced meat, grated carrot and zucchini
All-natural peanut butter (check the label to ensure peanuts and a little salt are the ONLY ingredients)
Mashed up sardines